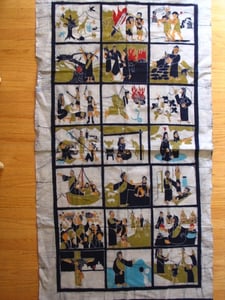 $

7.00 - On Sale
This large (34" x 60") color-fast handmade cloth illustrates 21 Bible stories in batik art. The first 10 Old Testament stories work to provide a background and foundation for the need of Jesus. And then the 11 New Testament stories combine to show Jesus' divinity-his Virgin birth, his power over nature, illness, death, and more.
The cloth could be used as a wall or door hanging or the blocks could be individually used on a quilt, cloth picture book, or some other handmade item.
The cloth will come with a detailed description and reference to each of the 21 stories.
Please contact burningbushesblog@gmail.com for more images or further information.