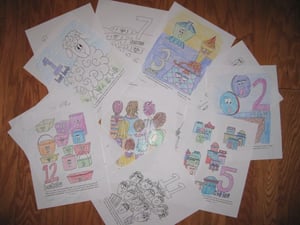 $

2.00 - On Sale
This 13 page coloring book uses numbers from stories about Jesus from the Gospels. Including a cover page, there is a full size coloring page for each number (1-12).
The objects for each number are bright and cheerful, each with expressive faces. The bottom of each page contains the related Scripture passage and a short lesson related to the number.
After purchase, this coloring book will be emailed directly to you for your own download and printing. Feel free to print the pages as many times as you like.
You and your children will have fun learning numbers, counting expressive objects, and learning more about Jesus and His promises all at the same time.